Web page Updates Made Easy!
Whether you host a dozen sites or just edit your home page, EZ Webitor is a tool designed to make your web editing tasks easier!
For the Content Editor . . .
We know how much time can be spent making sure your html is valid, uploading files, or just typing all of your updates into an e-mail to send to your web designer so he can make the changes! With EZ Webitor, you can save time, eliminate extra steps, and focus on quickly and efficiently updating your site.
. . . or the Web Designer
Give your customers the control they desire over their website content and free yourself up to do other things.
EZ Webitor
lets you design any website without limitation, as you normally would, and yet make any text portion easily editable. Give your clients full content control without allowing them access to confusing html source files or the need to operate an FTP program.
Easy-to-use CMS Database Application
EZ Webitor offers the option of giving your customers editing control based on their level of experience. Choose from a simple, intermediate, or advanced WYSIWYG html editor interface. Since EZ Webitor is data-base driven, you can control most of the functionality through an easy-to-use admin panel instead of scrambling through code to add and delete features.
EZ set-up!
EZ functionality!

EZ for your customers to use!
Here are just some of its great features!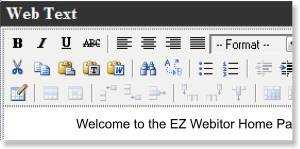 Can be integrated with any existing website that supports php scripting & mysql databases!
As much or as little of your website can be made editable as you choose.
Can be used virtually anywhere you have internet access!
You can install EZ Webitor yourself by following our easy to use instructions. (You may need assistance from your web host for database setup).
Or, we will set it up for you at no extra charge. (Includes database configuration and making one page editable. This requires we have FTP and control panel access to your site.)